Crested Butte Collection Newsletter
May 2020 Edition
The past two months have been trying times for the Gunnison Valley but the overwhelming support of our 2nd homeowners and local businesses for those in need has been truly inspiring. I'm confident our community will stay strong and survive the coming months. May has arrived and with it brings our County's reopening plan to spring back into action! (Click here for the full details) Second homeowners are currently welcome with a few days of quarantine and registering the number of people coming with into the county so the hospital can anticipate potential staffing needs. If you are considering a property but not yet a "2nd homeowner" here, then make your plans to visit because starting May 27th you can vacation once again in the valley.  As we transition from winter to spring, the warm sunny days are helping to dry out the hiking and biking trails offering up more outdoor activities families can enjoy while still social distancing.  If you are in need of short term lodging for your visit, Click here to consider this recently remodeled two bedroom penthouse condo. Incredibly comfortable accommodation for up to four adults and two children.
The overall residential real estate market has fared considerably well all things considered. Sales through April are up over $13mil compared to this time last year and another $14.6mil is currently under contract. The average sales price is also up to $763,038 from $736,784 last year. Inventory, however, remains low with one fewer listing than last month.
Appreciatively,
Corey & Erin
Email     970.596.3219
Leaders in Crested Butte Real Estate
Crested Butte Collection ranked #1 for volume and #1 for quantity of transactions in Gunnison County for 2019. Corey closed out the year with $43,193,600 in sales volume representing over 6% of the entire real estate market.*
*Source: CREN December 31st, 2019
Current market conditions
Despite current events, residential sales volume through April totaled $50,360,573 which is up $13,521,373 from same period last year. Number of transactions were also up (66 compared to 50). The average sales price, $763,038, is also up from $736,784. Average off of list price through April was 12% whereas last year was only 4%.
For a comprehensive view of last month's sales and current inventory, view our May 2020 Market Report by clicking the link below.
For a comprehensive view of last month's sales and current inventory, view our May 2020 Market Report.
View Our May 2020 Market Report
ACTIVE LISTINGS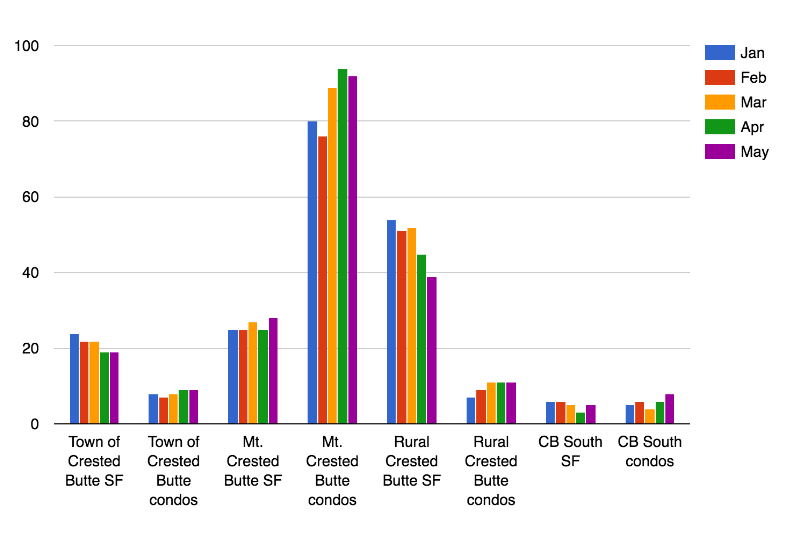 Local Expertise
If you're looking to buy or sell in Crested Butte and the Gunnison Valley, please contact us. We are happy to provide information on the area, a list of properties that suit your criteria, and/or prepare a complimentary comparative market analysis to assess the value of your property.

219 Sopris Avenue
Crested Butte
4 BR | 3.5 Bth | 2,772 Sq Ft
$2,450,000

450 Oversteeg Gulch Road
Crested Butte
3 BR | 2 Bth | 1,497 Sq Ft
$1,295,000

16 Hunter Hill Road, K203
Mt. Crested Butte
3 BR | 2 Bth | 1,331 Sq Ft
$625,000

15 Marcellina Lane, 109
Mt. Crested Butte
3 BR | 2.5 Bth | 1,087 Sq Ft
$479,000

25 Emmons Road, 27
Mt. Crested Butte
2 BR | 2 Bth | 1,108 Sq Ft
$475,000

5 Vulcan Street
Gunnison
4 BR | 2 Bth | 1,524 Sq Ft
$355,000
Town Events
As we continue to adjust to the new normal of social distancing we are seeing more and more virtual events throughout the valley.  People are taking this time to spend more time with their families and reach to friends both near and far via FaceTime, Zoom, Houseparty and other similar outlets.
We build our business on integrity and service. The highest compliment we can receive is the referral of friends, family and business associates. Thank you for your trust.
Corey Dwan | Broker Associate | Team Leader
Crested Butte Collection
Bluebird Real Estate
211 Elk Avenue | PO Box 1788
Crested Butte, CO 81224
c 970-596-3219
corey@crestedbuttecollection.com