Crested Butte Collection Newsletter
December 2020 Edition
It's starting to look very festive around town as we head into December. With a blanket of new snow and the storefront lights lining Elk Avenue, one can't help but be in the holiday spirit. The Crested Butte Mountain Resort ski area opened the day before Thanksgiving welcoming our holiday visitors to the 2020/2021 ski season. In light of this year's covid restrictions, CBMR rolled out their new reservation system so be sure to log on and make your ski reservations to book your ski days.
The overall residential real estate market has been impressive this year. Even through the off season, we continued to exceed last year's volume. Residential sales volume through November was $301,775,427. Another $82.9mil is currently under contract. The average sales price is up just shy of 16% to $946,004 from $816,140 while inventory pretty much remains on the decline with 15 fewer listings than last month.  
Appreciatively,
Kiley & Erin
Email     970.596.3219
Leaders in Crested Butte Real Estate
Crested Butte Collection ranked #1 for volume and #1 for quantity of transactions in Gunnison County for 2019, closing out the year with $43,193,600 in sales volume representing over 6% of the entire real estate market.*
*Source: CREN December 31st, 2019
Current market conditions
2020 has been a year full of surprises. What started off as a slow first quarter soon ramped up to be an incredibly busy summer and fall. As we head into winter, we continue to see inventory decline as prices and demand increase substantially.
Residential sales volume through November totaled $301,775,427 which is up $132,018,152 from this time last year. Number of transactions were also up (319 compared to 208). The average sales price, $946,004, is up almost 16% from $816,140 at this time last year. Currently there are 71 properties under contract totaling $82,969,699; 29 of which are listed at $1mil or more including this beautiful Red Mountain Ranch home listed by our office for $3,995,000.
For a comprehensive view of last month's sales and current inventory, view our December 2020 Market Report.
View Our December 2020 Market Report
ACTIVE LISTINGS
Local Expertise
If you're looking to buy or sell in Crested Butte and the Gunnison Valley, please contact us. We are happy to provide information on the area, a list of properties that suit your criteria, and/or prepare a complimentary comparative market analysis to assess the value of your property.

14 Castle Road
Mt. Crested Butte
1.65 Acres
$4,500,000

1025 Skyland Drive
Crested Butte
4 BR | 4.5 Bth | 4,304 Sq Ft
$3,490,000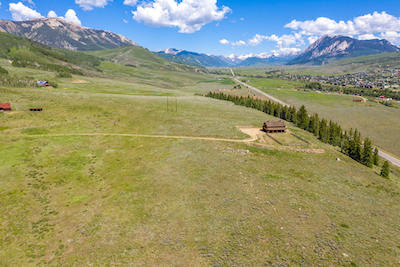 710 Red Mountain Ranch Road
Crested Butte
35.1 Acres
$1,450,000

30 Paradise Road
Mt. Crested Butte
3 BR | 2 Bth | 1,576 Sq Ft
$1,285,000

11 Emmons Road, Unit 427
Mt. Crested Butte
2 BR | 2 Bth | 1,012 Sq Ft
$499,900

116 Gillaspey Avenue
Crested Butte South
0.27 Acres
$295,000
Town Events
The holidays are here. Enjoy Light Up Nights each Friday as well as other fun festivities around town. There are many virtual activities available this winter and of course the ski area is open. Don't forget to make your reservations to ski.
We build our business on integrity and service. The highest compliment we can receive is the referral of friends, family and business associates. Thank you for your trust.
Kiley Flint | Broker Associate | Team Leader
Crested Butte Collection
LIV Sotheby's International Realty
401 Elk Avenue | PO Box 210
Crested Butte, CO 81224
c 970-596-3219
kiley@crestedbuttecollection.com